Ben Chafin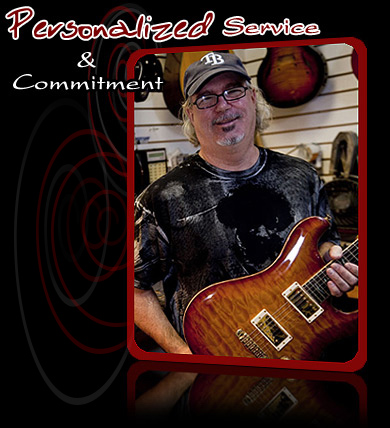 I started working on guitars when I was about 13. I had just started playing and I found a guitar that someone had thrown out. The body was smashed so I took all the parts off. This is where it all started for me.
I would have to acknowledge credit to Steve Carr for giving me the basics of guitar building. Steve was the Builder and tech for KISS back in the early days. Steve had moved down from NY and we worked together to repair and build guitars in Orlando, Florida.
Steve was a great and creative builder. He taught me how to do everything from carve tops and setting in necks. Over the years I was also heavily involved in guitar repair. I especially enjoyed working on vintage guitars. Taking those classics apart allowed me to really understand their construction and their essence. The classic instruments probably have influenced my building and design style more than anything else.
In 1995 Dean was under new ownership and they wanted to bring the then dormant brand back from the grave. They had set up a small factory in Plant City, Florida. I was lucky enough to get on board with that and get my first experience in large scale guitar building. Over the years Dean evolved and my responsibilities also evolved. I became the head builder and designer. I regularly had the opportunity to work with touring musicians to develop custom instruments. This daily exchange with world renowned players is another important influence for me. I learned so much about the specific demands of these very demanding musicians.
After my tenure at Dean Guitars I decided to start my own company Chafin Custom Guitars. This business is still growing and so far I've had many great experiences building custom instruments. Maybe you've always wanted to experience the difference a custom guitar can make. If you have, then please visit my web site www.chafincustom.com and take a look around. If you have some great ideas or find something you like feel free to give me a call. I'd be excited to hear from you!
I am here to serve the Tampa Bay guitar community. I will continue to listen to your wants and needs and be totally player driven. I want to be sure that even as we grow that we continue to provide a positive customer experience. I have a solid foundation in traditional guitar building and repair, I enthusiastically strive to improve those skills to better serve you.