Michael Donner
I started out like a lot of guys did, as a musician. I began playing professionally at 12 and did my first road work at 13 (the Summer between 8th and 9th grade). I continued to gig through High School and was an Instrumental Music Education Major in college. The last time I came off the road, I started working at Ye Olde Guitar Shoppe in Des Moines, Iowa. I was teaching, managing the store and doing some simple repair work. Yes, the guys from Slipknot were there. Jimmy was a regular customer and, eventually, Mike taught at the store.
It was here that I met Lyle Haldy, a master guitar builder from Amana, Iowa who had apprenticed with archtop builder, Dave Patterson. Lyle offered me an apprenticeship and I spent the next 2 years learning what I could while keeping the shop clean, the chisels sharp and the coffee pot full. When I was offered a gig in the service department at Washburn in 1986, I continued my apprenticeship with John Allison who was also a former student of Patterson's.
I am a thirty year veteran of the Music Industry having worked for Washburn Guitars from 1986 to 1989 (desinging the Washburn AB40 and AB20 acoustic bass guitars), Gibson Strings from 1989 t0 1990(helping to develop the artist string and restring clinic programs), Peavey Electronics from 1990 to 1996 (Working with Jeff Berlin, Brian Bromberg and Rudy Sarzo on signature instruments and custom-building instruments for various endorsing artists as well as developing the Cyberbass, designing the Cirrus Bass, and performing as an Artist Relations liason. As Product Manager for the guitar division I oversaw the release of the the Cirrus Bass and Wolfgang programs).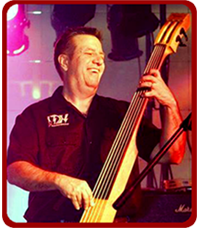 I was production manager at Parker Guitars from 1996 to 2002 (helping to streamline production and develop the Fly Bass) and inherited Ben's position at Dean Guitars/Luna Guitars from 2002 to 2006 (working on the development and implementation of both lines including the invention and development of the Pace Bass). In 2006 I formed MQD Consulting LLC, a consulting and design service specializing in relationships between American and European companies and Asian manufacturing facilities. In the past five years I have been hired by a number of US, Canadian and European guitar companies to help with sourcing and several Asian manufacturing facilities to work with their staff on manufacturing processes and quality control issues implementing the higher standards required to move from low-cost/high-volume production to a more flexible type of manufacturing enabling them to demand a premium price for their products.
I'm very pleased to be working with Ben at Guitar Repair of Tampa Bay. We seem to work well together. I look forward to the challenge of repairing and maintaining the stringed instruments of the professional and amateur musicians of the Tampa Bay area.